October 8th, 2007
For those that watch the Showtime series Weeds, you may have noticed your favorite little icon around the 25 minute mark of the episode that aired last Monday while I was off at Adobe MAX in Chicago.
In this scene the main dope dealing character was stalking a woman (not yet sure why…plot twist is ongoing) who gives mammograms. To start the mammogram the woman double-clicks on the Director icon on a machine running OSX. The icon expands as a program begins, and that is the point that they cut away from the computer screen. Later when they came back to it a data acquisition program was running.
I wonder if the people that create Weeds knew most of us would miss this since we were in Chicago. Hmm… Anyway, I still want to get my thoughts from MAX up here and pictures of the funky new pen in the next few days so stay tuned (a cold is dragging me down a bit right now).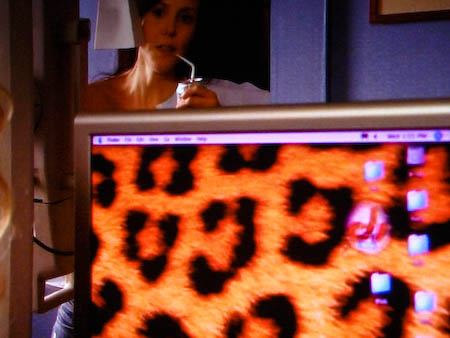 Picture snapped with my Cybershot…looked better in HDTV!