February 18th, 2008
From the wealth of online posts, looks as if Director 11 will be here tomorrow…and it might look like this (thanks Wolfgang).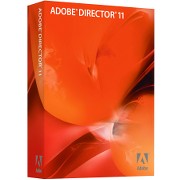 Image links to CDW product page.
Adobe next month will release Director 11, an update to its graphics assembly, that it hopes will lure game developers with its better 3D imaging.

Adobe is expected to detail the latest features of Director at the Game Developers Conference in San Francisco on Tuesday.

Director 11 is used to build games, as well as graphics-rich presentations, and learning applications. It uses the Shockwave plug-in to render 3D graphics.

The latest version includes physics, or movement between images, using the Ageia PhysX engine and support for DirectX 9, which can take advantage of recent graphics cards.

It will make it easier for designers to create more realistic 3D images, such as colliding cars on a racing game, said Rick Jones, senior product marketing manager at Adobe. The inclusion of Flash Player 9 enables the inclusion of animations and slick graphics for things like game menus.

When Adobe releases Director 11 next month, the price will be $999, rather than $1,199, which is the cost of the current version. Upgrades are $299 and a new student edition is available for $99.
And from the Adobe Director support forums, skiplondon has posted the following, so be sure to get your questions to him:
We are out in San Francisco for the announcement of new version of Director which will be coming from Adobe tomorrow. We will be reporting on this and sitting down with all the people on the Adobe Director team.

If you would like to have me ask them any questions for you, please email me at director @ magicgate . com . You only have about 24 hours left to submit your questions. These will be aired on our next episode of the Director Podcast hopefully on Wednesday morning.

If you wish to hear older episodes of our show, you can go to http://director.magicgate.com

SKIP
Thanks for that Skip, I'll be looking forward to the next Podcast!
Entry Filed under: Director 11,Director PR