Is this a picture of me at the latest club dancing the night away? I can't say it is, but it is a picture from a project that was recently completed using Director located at Cadbury World across the lake in Birmingham, UK.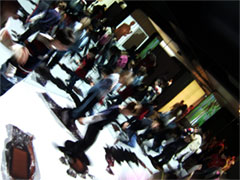 The development team at HMC Media Lab used 3 computers networked together with a shock sensitive floor and motion tracking to make interactive chocolatey graphics at Cadburys World theme park in the UK. Director was used to create "custom software from the ground up and installed it across three computer processors at the nerve centre of the installation."
As you enter the infinity room a giant chocolate bar melts into gloopy puddles beneath you and, when you jump in them, chocolate splashes all over the floor. Then a sprinkling of individual Roses chocolates appear beneath your feet. You won't believe your eyes when they unwrap as you tread on them but as you step off they wrap back up.
I'm always amazed by what one can do with Director. Now, if I make it over to to the UK I'll be sure to stop by. Mmmm…..chocolate — Homer Simpson.
10 comments May 23rd, 2006