Like 2 million other people, I installed OSX 10.5 (aka Leopard) on my iBook this past weekend. The installation went smoothly. I made sure I removed lots of 3rd party toys I keep on my computer (ShapeShifter, FinderPop, etc.), and I made a clone of my HD using SuperDuper!.
I love having Spaces built in now rather than using a 3rd party app. In Safari you can control-click on anything on a web page and choose Inspect Element which pulls open a nifty tool. Screen sharing via iChat is sweet. Lots of things I really can't live without (hmm…geek?).
Minor issues with my upgrade were with the web sharing. It now runs on Apache 2, so I had to edit my httpd.conf file sitting inside the apache2 folder to get php running again. Some of the permissions on mysql data also got lost, so had to tweek those.
Now, on to Director. I started it up and it seems to run with no problem, and something even got fixed! For years on OSX the little arrows on the floating windows pointed diagonally downward. They didn't care if the window was open or closed. But now…look at the picture below! The little arrows actually point in a reasonable direction. GUI improvements on a very old program with a two day old operating system. Amazing. I'm so excited watching the little arrows move. The simple things in life 🙂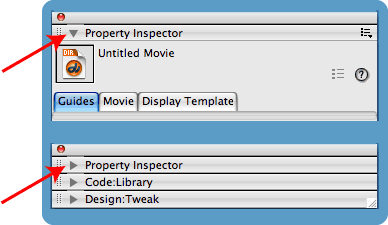 7 comments October 30th, 2007