I enjoyed my time at the conference two weeks ago in Boston. I managed to catch a Red Sox game while there, meet up with a few Director folks, and drink a bit of beer.
Most of the sessions I went to were associated with gaming in education. The phrase of the day in eLearning is Immersive Learning Simulations (ILS). They are pretty much what they sound like. Immersive. Learning. Simulation.
A common form of immersion is taking place in massively multiplayer online games. Director is a tool that can be used to create these. Sites created with Director such as Habbo Hotel and MaidMarian were shown. Phosphor was also shown as an example of an amazing 1st person shooter for the web. Many people pointed out that Director really is the best tool for developing 3d web-based worlds.
During several sessions the speakers pointed out that the next version of Director will be coming out later this year. I was hoping the Adobe booth would have CS3 kicking around, but alas, even they didn't get a copy to play with. While talking about Director I noticed a few people were also asking about an update to Authorware.
It was an interesting experience for me, since I'd never really thought much about the resources involved with the corporate side of eLearning (since I've always been on the K to college world). A lot of companies, and a lot of money. A bit shocking compared to the K-12 side of things.
The highlight of the conference though was probably due to Media 1. Their raffle prize was flying toy helicopter. Needless to say, the cute little helicopter now zips through the office near the end of the day. No critical data has been lost 🙂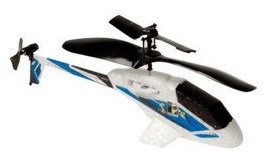 4 comments April 25th, 2007